Planting a Container Garden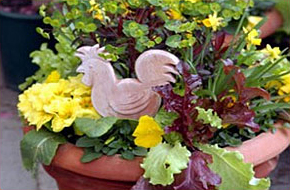 Soil – Always use a well-drained, sterilized, loose potting soil. Cover finished containers with a layer of mulch or moss to retain moisture.
The Container – Be imaginative. Nearly anything that holds soil can be used for a container. Make sure it has good drainage and is large enough for the plants you want to grow.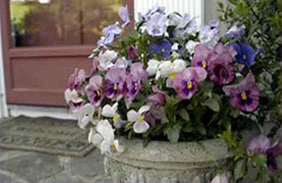 Spring
Pansies and Primrose are perennial favorites since they are both easy to buy and grow. These spring flowers can easily be brought outside in cold weather. Potted bulbs that have been forced can be brought out in nice weather for early spring color.
Summer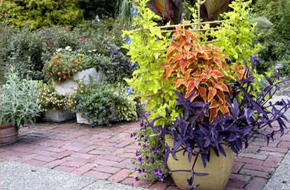 The skies the limit. Proven winners combined with more traditional annuals and perennials give us endless possibilities. Victorian hanging baskets are the newest and most exciting thing to happen to hanging baskets. These arrangements overflow with color and interesting plant combinations. Don't be afraid to use perennials and tropicals in your containers. They offer even more easy to care for options for color, texture, and style.
Fall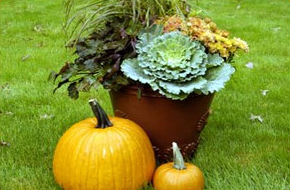 Mix summer annuals with fall color. Mums and kale add fresh and interesting color and texture to tired summer pots and planters. Use them alone as simple and tasteful ways to spruce up the autumn landscape. Fall blooming perennials such as sedum, asters, hardy mums, and ornamental grasses can be potted temporarily and planted in the garden before winter sets in.
Winter
Potted holly with lights, Alberta and blue spruce make great holiday decorations. Italian cypress is a sub-tropical plant that can survive temperatures as low as 20 degrees F. Mix these with Christmas greens and use in holiday window boxes and porch pots. Don't forget about amaryllis and paper white narcissus. These easy to grow bulbs bring spring color indoors at the dreariest time of the year. Conifer gardens are interesting way to add color and texture all year long.