10 REASONS TO GO ORGANIC
1. It's nature's way. working with nature, not fighting against it
2. It's safer to use than chemical fertilizers, less exposure to chemicals
3. It's more economical, fewer treatments are required
4. Synthetic/ chemical fertilizers destroy beneficial soil organisms
5. Using organic fertilizers builds up soil nutrients
6. It's less toxic and better for the environment
7. Plants, including grass, are stronger and healthier
8. Composting saves waste, less waste going to landfills
9. It produces higher quality, healthier foods
10. Your soil will thank you
Neptune's Harvest Fish and Seaweed fertilizer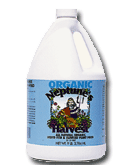 1 pt- $12.99
1 qt-$19.99
1 gal- $49.99
Neptune's Harvest 100% Organic Fish / Seaweed Fertilizer gives you a perfect blend of fish hydrolysate and seaweed, ensuring a complete fertilization program without the worry of plant or root burn. Growers using Neptune's Harvest Fish / Seaweed fertilizer on a regular basis have reported increased marketable yields and improved shelf life on fruits and vegetables. All foodstuffs taste better using organic fertilizer. Fish / Seaweed are known to build the natural sugar in plants. Flowers and foliage will be stronger and more colorful. Blooms will be more plentiful, fragrant and longer lasting.
The Espoma Company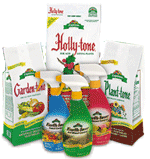 Since 1929, The Espoma Company has been the pioneer in natural gardening solutions. From our leading plant food, Holly-tone, to our new Earth-tone control products, we have provided generations of gardeners safe, effective solutions from the finest natural ingredients.
• The Most Trusted Name in Natural Organics
• Proven Results for Over 75 years
• Safe for People, Pets & the Environment
We carry: Plant Tone, Holly Tone, Flower Tone, Rose Tone & Bone Meal – 5 lb. bag – all for $7.99 ea.