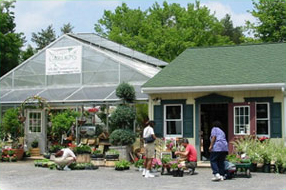 Ballantyne Gardens Mission Statement:
"Our mission is to provide the highest quality plants and services to all our clients, everyday. We strive to demonstrate horticulture in a way that is true to the art, incorporating organic practices. It is our priority. We provide our customers with organic solutions, and offer fine quality tools and supplies to ensure their gardening success."
Ballantyne Gardens is a small, but fully packed garden center in Liverpool, New York. Owners Tim and Lisa Ballantyne purchased the property in the fall of 1996, built a new store, and opened for business in the spring of 1997. Since then many changes have altered the landscape of Ballantyne Gardens. A large pond with a wildlife garden borders the far corner of the garden center. Other display gardens, both permanent and seasonal, have been arranged and continue to be developed. All of the display gardens show how to arrange garden plants in a pleasing way as well as show how the plants will look at maturity in your garden. Our retail greenhouse offers covered shopping year round.
At Ballantyne Gardens, the customer always comes first.
If you have a hectic lifestyle ( and who doesn't ), we make sure that you are waited on quickly and efficiently. We will load your car for you and make sure that there is a protective trunk liner in your car so that you won't have to clean it later. If it's leisure time you're looking for, please, by all means, relax, wander, stop and smell the roses. We never rush you. Wander to the display gardens, read our literature, sit and watch the birds.
We are a specialty garden center that focuses on providing our customers with the newest and most interesting plants available. We sell annuals, perennials and shrubs of all kinds. We are always on the lookout for the newest varieties that will grow well in our backyards. Don't forget the other elements that make gardening interesting and fun, like statuary and garden ornaments. We also carry a line of high quality garden tools that make every garden chore easier to perform. These top quality tools will last a lifetime and make your gardening experiences even more enjoyable.
So stop in and look around. We look forward to helping you create a beautiful garden and landscape.
Credentials
Tim Ballantyne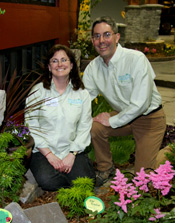 Tim Ballantyne is a graduate of Lemoyne College with a degree in Business Administration. He worked his way through college doing landscaping jobs and working in a local retail garden center. Tim's love of the outdoors, and gardening in particular, comes from his parents. After college he worked in the banking industry for five years eventually returning to managing garden centers for Agway Inc. After 20 years working for others, Tim joined wife Lisa in opening Ballantyne Gardens in 1997.
Tim has practiced his craft for over 30 years.  He has given many talks to local garden clubs, the CNY Blooms flower show, at the Liverpool Library, and on radio and television, as well as at the garden center. Tim attends many trade shows, seminars, and garden shows continually learning new horticultural practices and plants to continue to be a knowledgeable source for all his clients. As a Master Gardener, Landscape Designer and Installer, his main objectives are to give his clients beautiful and easy care landscapes that are suitable for our Central New York climate.
Lisa Ballantyne
Lisa Ballantyne has a degree in Horticulture from Morrisville College. An avid gardener she has had experience with all forms of indoor and outdoor gardening. Lisa worked in several retail garden centers before opening Ballantyne Gardens. She is a Master Gardener with over 25 years gardening experience. Lisa's organic approach to gardening has set the stage for Ballantyne Gardens to be a leading source of organic gardening solutions.
Lisa is a landscape designer using techniques of design that give the client what they want and need for their natural surroundings while incorporating color, texture, scent, and nature. Lisa creates many designs including gardens for bird attraction, butterfly attraction, children, inclusive gardens, water gardens, gardens for winter interest and more. Lisa has given many talks in her community and at local garden shows and events as well as at the garden center.
We employ a staff of talented and interesting individuals, all qualified to help with your gardening needs. Our in-store crew works hard to maintain our plants so that we always have beautiful things for your landscape and garden. Our landscaping crew is always courteous and professional. They install some of the finest landscapes and gardens in town.