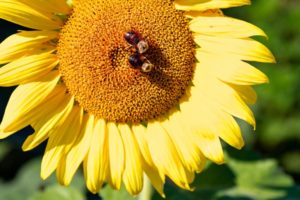 I hate to admit that we have mice. Being a garden center perched on a wooded lot, it is bound to be an issue. The fields behind us are perfect for growing mice. Even with our hawk and fox population we have enough trouble with mice that the traps are always out. Someone once told me that even the chickens would help control the mouse situation (try not to imagine that), but I have yet to see a chicken intervene on the mouse control front. If anything, having our chickens (all of whom we love to death and wouldn't trade), could be contributing to our mouse population since there is always a little grain and seed here and there. Never mind that we keep the bird feeders sufficiently full to feed the cardinals and nuthatches all winter. Adding black oil sunflower seed to our chicken food mix gives our girls a bit of extra fat to help them ward off the cold, besides the fact that they love the stuff, as any self-respecting bird would. It is also good for the wild birds for the same reasons.
Lately, I've been noticing something happening in our greenhouse. Recently potted plants(things that have gotten too big for the pots and needed to be put in bigger ones), are getting strangely familiar looking sprouts in them. Mind you, they are nothing like the plant that is intended for that pot. These are most definitely sunflower babies sprouting all over the greenhouse. It would seem that we had an open bag of potting soil hanging around. Naturally, I would want to use that soil first before opening a another bag. All looked normal when the potting took place. After all, it's BLACK oil sunflower seed, how would you spot it in a bag of potting mix. Black oil seed is also smaller than the striped variety, so….
No doubt, our four-legged furry friends have deposited their cache in that bag of potting mix. And, unfortunately the sprouts did not appear before I finished using the entire bag. I am sure there are more sprouts to come. The good news is that we are pulling them as soon as we see them. We really don't want the sunflowers to grow. Those babies would get huge and compete with the other plant like crazy! If we have recently potted something for you, just be on the lookout. Pull the seedlings while their young, if they should appear. Don't get any big ideas about trying to keep them. Come buy a packet of seeds and grow them legitimately and in the right place and time.
There are no more open bags of soil hanging around. And as we open new ones we'll be sure the close them up tight. It would seem that the mice are currently under control. But as the weather will inevitably warm-up, they will be on the move again. Hopefully they will head for the fields.