As you can imagine, winter here in the garden center is very different from the rest of the year. Being a seasonal business is always a challenge. Before it begins I always think we will have a lot of down-time and can just tackle all those unfinished projects at home. Then it hits me that we don't have employees in the winter. Someone has to water the plants, feed the chickens, clean the store and get ready for spring! It is always surprising to me how fast the time goes and how much there is to do. Not to mention this is a time of trade shows and purchasing items we haven't gotten to yet. Most of our big ordering happens in late summer and fall. Now we are looking at what we missed or what new things can we find.
On Wednesday, during that big, nasty snow storm, we took delivery of our 19 pallets of soil. That includes topsoil, compost, big bags of potting mix, cow manure (new for us this year) and more. We were not given a choice of delivery options. It was "Wednesday is your day". It was a long day. The truck was scheduled to arrive at 10:00 am. We were hoping, from early reporting, that the worst of the storm would not be starting yet. That forecast changed (go figure). He had one stop in Auburn, from Canada, then us. Upon leaving the place in Auburn he sank the entire truck in a farmers field. He was a really nice guy, but I know he caught hell for that, and a few snickers from the guys at the warehouse.  It took a few hours to free the 52 ft trailer and get him back on the road. In the meantime we are just waiting with no word as to what had happened. We called the trucking company around noon. He arrived with our load at 1:47 pm, a good 6 inches into our storm. Let's just say a lot of things happened from there. Shoveling the parking lot to clear the snow. Couldn't get a plow to come since everyone was busy. The rental fork lift didn't have chains, and so it got stuck immediately and often. The forklift was stuck between our vehicles and the driveway, so leaving to get ice melter was impossible. None of our friends with trucks would answer their phones. Eventually we bribed a guy who was removing snow near-by to help with the snow and to free the forklift. Finally, we were able to leave and get many bags of salt/ ice melter. FYI, the folks at Value Home Center in North Syracuse were very helpful. It's a smaller store (unlike the big boxes and they waited on us quickly and with a smile, which Tim and I really needed that day!) And, on a very snowy day they had lots of ice melting products to choose from!
At this point the day began to turn around. The snow stopped falling (thank the heavens!). Tim shoveled one more time while I dumped massive amounts of ice melting products around the parking lot and at the wheels of the forklift. With our new-found traction we were able to unload the truck. Prior to this we had not managed to get a single pallet off the truck. The truck was unloaded in 45 minutes. We signed the paperwork and kissed the driver goodbye (he did get a free meal and a hot cup of coffee). Guess what! The trailer was stuck in ice! His tires were hot when he pulled in and sealed themselves down to our lot. It took another 15 minutes and bunch more shoveling and ice melter to get him out, but we did it. He left us just around 6:30 pm. We stood there, cold, wet and exhausted. Our 19 pallets were unloaded, but not organized and put away. They stayed that way until the next morning.
I have to give a shout-out to Canadian driver, Fred. He was having a terrible day, but always kept his cool, and his sense of humor. An angry or unhappy truck driver can make your life miserable. Fred was a lovely gentlemen. Tim called Fred's supervisor the next day to let him know how pleased we were with him. Safe travels and God speed Fred!
I didn't take any pictures of the day's travails. I was just too busy and honestly, after writing this I just want it to fade from my memory. But since history is our teacher, next time I will refuse a load on a day when travel advisories are issued.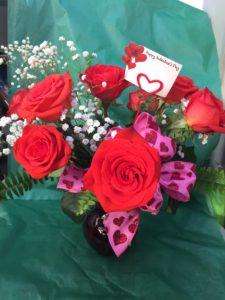 In other news, Valentine's Day is just around the corner. Next Wednesday to be exact! Having been florists in a former life, Ballantyne Gardens has always sold flowers on Valentine's Day. This year we are offering more choices and some nice surprises. We've been planning all year for the day. So, if you want something different, easy to shop, good prices and excellent service, give us try. Also, we have a man on staff (Tim) so the guys can feel comfortable talking to another guy.
Lisa