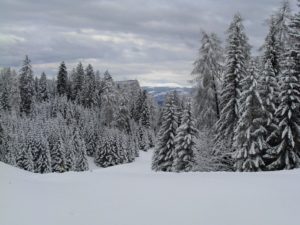 The winter blues are something I tried hard to avoid. As people who do most of our work seasonally (spring, summer and fall) winter can be an interesting time of year. Unlike a lot of people, in the chaos of spring sometimes you can hear me muttering "I can't wait for January" under my tired breath. Winter is a time when we get to slow down, cook soup and sleep a bit later. At the same time winter can be as challenging for me as for anyone. I take my vitamin D, which I truly believe helps with the potential depression, and working in a greenhouse certainly is better than a cubicle, even on the many cloudy days. This time of year I have more opportunities to get to the gym. Exercise is something Tim and I both miss in winter and believe it or not he looks forward to storms that give him a chance to do some meaningful shoveling. Although that gets old in a hurry. Keeping up some regular exercise definitely helps to keep away those dark-day doldrums. Having an active 80 pound dog doesn't hurt either. I can't take the long walks like Tim and Henry (big dog) but Henry also gets a little bored in the house. And, since his girlfriend, Nola, a 35 pound border collie mix, has gone to Florida for the winter, I am IT! It seems I can play rough on the living room floor like a border collie, and Henry often takes advantage of that. The yoga classes have helped so wrestling with Henry is helping to keep both he and I fit.
Being a gardener, these are the best days for garden dreaming. If you are like us you have both old and new garden magazines. The seed catalogs have been rolling in. There are lots of websites and You Tube videos filled with ideas and tips for the gardening season ahead.
There is no excuse for not daydreaming of your spring and summer garden now. How will those tulips and crocus and daffodils look in just a few short weeks? What will be the first to push out of their wintery slumber? Those first-thaw days when the sun stays just a little longer and burns just a little brighter. The smell of snow retreating and the grass waking up. That first smell of spring and the rain that washes away winter salt and grime and gives sleepy plants their first clean drink. How about those first seeds that get sunk into cool ground, the peas, radishes, spinach. What of getting on our hands and knees to witness robust perennials sending up the first leaves of the season? What of watching tiny buds turning into sweet lilac blooms and pussy willow catkins and crab apple blossoms. What veggies will you grow this year? Will you grow beefsteak tomatoes or cherries, or both, or all of them, like plums and heirlooms? Zucchini, pumpkins, cucumbers, onions and garlic, beans, lettuce, kale, cabbage? How about herbs? Who can live without parsley, sage, rosemary and thyme? Not to mention basil, cilantro, oregano, mint, dill and lavender!
Think of these things when fighting off the winter blues. Look at catalogs and magazines and old photos of last year's garden. Make drawings and plans for the seasons ahead. Remember that the planting season can go well into the fall if you plan for it. January is almost over and the days are getting noticeably longer. Valentine's Day is just around the corner with St. Patrick's Day to follow, and before you know it, it's Easter and April Fools Day! There, it's spring already!